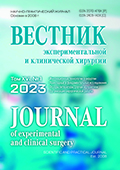 Vestnik of Experimental and Clinical Surgery
Scientific and practical journal "Journal of Experimental and Clinical Surgery" is established by the Institute of Surgical Infection of N.N. Burdenko Voronezh State Medical Academy in 2008.
The journal publishes original articles on clinical and experimental studies, literature reviews, brief reports on clinical observations, information on innovations, inventions and innovative projects, new methods of diagnosis and treatment, materials on the history of departments, clinics and surgical hospitals.
Announcements
Dear visitors journal

To open all issues, click on "Archives"
Posted: 24.04.2016
Current Issue
Vol 11, No 3 (2018)
Original articles
Biomechanical Characteristics of Light Synthetic Materials for Hernioplasty (Experimental Study)

Vestnik of Experimental and Clinical Surgery. 2018;11(3):154-160

| | |
| --- | --- |
| | 43 |


(Rus)
The Role of System connective tissue dysplasia in the Formation of hernia Inguinal Area

Vestnik of Experimental and Clinical Surgery. 2018;11(3):161-166

| | |
| --- | --- |
| | 27 |


(Rus)
Evaluation of the dynamics of the main indicators of treatment care and the long-term results of conservative treatment of ulcerative gastroduodenal bleeding

Vestnik of Experimental and Clinical Surgery. 2018;11(3):167-172

| | |
| --- | --- |
| | 22 |


(Rus)
Kinetics of wound process with various methods of stimulation of regeneration in wounds

Vestnik of Experimental and Clinical Surgery. 2018;11(3):173-178

| | |
| --- | --- |
| | 27 |


(Rus)
Metastatic adrenal lesions in cancer patients.

Vestnik of Experimental and Clinical Surgery. 2018;11(3):179-182

| | |
| --- | --- |
| | 26 |


(Rus)
Relapse of varicose veins of lower extremities

Vestnik of Experimental and Clinical Surgery. 2018;11(3):183-185

| | |
| --- | --- |
| | 138 |


(Rus)
Microbiological diagnostic criteria of infectious inflammatory complications after total knee replacement in the aspect of periprosthetic joint infection (PJI) pathogenesis

Vestnik of Experimental and Clinical Surgery. 2018;11(3):186-192

| | |
| --- | --- |
| | 31 |


(Rus)
A New Method of Boerhaave Syndrome Surgical Treatment and Its Experimental Justification

Vestnik of Experimental and Clinical Surgery. 2018;11(3):193-201

| | |
| --- | --- |
| | 39 |


(Rus)
Circulatory Condition in Kidney Patients with Pururlent Pyelonephritis

Vestnik of Experimental and Clinical Surgery. 2018;11(3):202-207

| | |
| --- | --- |
| | 21 |


(Rus)
Application of Stereotactic Radiation Therapy for Removing Pain Syndrome to Patients with Non-researchable Cancer of Pancreas

Vestnik of Experimental and Clinical Surgery. 2018;11(3):208-212

| | |
| --- | --- |
| | 27 |


(Rus)
Factors of the Risk of Developing a Secondary Cataract and Recommendations for Conducting a Primary Posterior Capsulorhexis

Vestnik of Experimental and Clinical Surgery. 2018;11(3):213-217

| | |
| --- | --- |
| | 19 |


(Rus)
Features of the topographic anatomy of the rat trachea and the possibility of performing surgical interventions.

Vestnik of Experimental and Clinical Surgery. 2018;11(3):218-223

| | |
| --- | --- |
| | 21 |


(Rus)
Morphological changes in the tissues of the experimental model of hemangioma with concurrent medication of β-blockers and interstitial introduction of the Kenalog preparation.

Vestnik of Experimental and Clinical Surgery. 2018;11(3):224-228

| | |
| --- | --- |
| | 39 |


(Rus)
Memorials
Mayat Valentin Sergeevich - a well-known scientist, surgeon, teacher, creator of the surgical scientific school (on the 115th anniversary of his birth)

Vestnik of Experimental and Clinical Surgery. 2018;11(3):229

| | |
| --- | --- |
| | 21 |


(Rus)
Justin Ivlianovich JANELIDZE – Chairman of the all-Union society of surgeons, Chief surgeon of the Soviet Navy, chief editor of the journal "Bulletin of surgery" (135th anniversary of birth)

Vestnik of Experimental and Clinical Surgery. 2018;11(3):230

| | |
| --- | --- |
| | 18 |


(Rus)
140-th anniversary of the birth of the first in Russia head of the department of surgery, a well-known radiobiologist, geneticist and oncologist, Professor Nadezhda Alekseevna Dobrovolskaya (on the 100th anniversary of the Voronezh State medical university)

Vestnik of Experimental and Clinical Surgery. 2018;11(3):231

| | |
| --- | --- |
| | 22 |


(Rus)